First Impressions Count! - Designing a Logo
Our Design Process
Generally speaking, designing a company or product logo is an iterative process involving various stages, eventually honing in on the final design. Outlined below are the usual stages New Skin Design undertakes to develop the corporate image of a company.
Stage 1 Client Requirements
The first step is to obtain all the necessary and relevant client information:
What is the name of the company or product?
What does the company or product do?
What market does the company serve or what market is the product aimed at?
and most importantly
What sensation does the company want to transmit through its logo?
A logo is a shop window for a business. If people like what they see they are more likely to "go in".
In some cases, the client has a pre-existing idea of what they would like to incorporate into the logo, for example a graphic element or a specific colour. At other times the client gives us complete creative freedom. We can design a logo starting from either of these situations.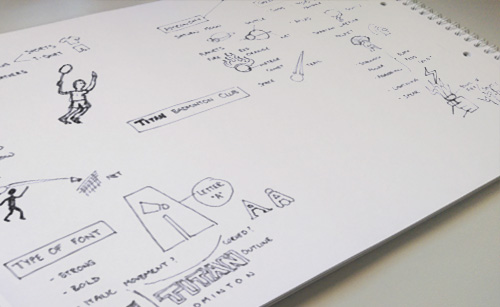 Stage 2 Company or Product Research
Research is carried out to get to know the company or product and to establish its user base. Brainstorming is then conducted to identify relevant topics and important concepts that could be included in the design.
Stage 3 Initial Design Generation and Proposed Designs
From the concepts identified through brainstorming, several designs are sketched out using pencil and paper. Of these designs, the strongest ideas are selected and are developed further into vector versions using Adobe Illustrator. Potential typefaces are selected and if no appropriate font exists, a bespoke font is created just for the design.
Up to 8 different logo designs are presented to the client in pdf format.
Stage 4 Client Feedback and Modifications
The client identifies the logo design/s or parts of a design that they like (or don't like!), to be worked on further. Colour, component sizing and font changes are all common at this stage.
The revised design/s are shown to the client for their approval. We allow for 2 rounds of client modifications, before charging for additional revisions.
Stage 5 Final Logo Design
Once the client is happy with the logo, it is delivered in various digital formats for both print and screen.
All logos we design are suitable for registering as trade marks with the EUIPO (European Union Intellectual Property Office).
If you require more information about our logo design service, please contact us.
Follow us on twitter @newskindesign for more design related news.
Tweet