3D Printing, Rapid Prototyping and Scale Model Making
TheLink3D is the 3D printing arm of New Skin Design, dedicated to all things 3D Printed.
3D Printing technology and more specifically Fused Filament Fabrication (FFF) has opened up rapid prototyping to the masses. What was once a technology reserved for large corporations due to its restrictive costs is now available to everyone.
Simply speaking, the 3D printing process begins with a CAD model of the object to be printed. Slicing software is then used to slice the model into thin horizontal layers and this information is outputted in a file format that the 3D printer can read. When a print is started, the head of the 3D printer heats and extrudes plastic filament to form a thin layer of the object's cross section. This process is repeated by printing layer upon layer until the object is completed.
We are currently able to print product prototypes and models in various materials including ABS, PLA and Nylon. As the technology is constantly evolving more materials are becoming available.
The advantages of 3D Printing are Cost and Turnaround. Prototypes can be made in days and don't require special tooling. A 3D printed prototype allows for its design to be evaluated. Form, fit and function can be reproduced allowing any design problems to be identified early and resolved.
Bring us your prepared 3D model file for printing or have us prepare your design using our 3D and Product Design service.
Contact us for more information or to discuss your project.
Company Structure
3D Printing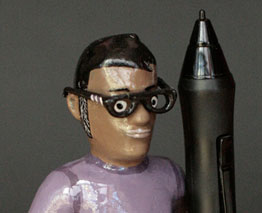 Mini Me Figure
3D Printing
Athena and Augustus
3D Printing
3D Printed Components
3D Printing
Threaded Bolts and Bearing
3D Printing